Thermal Management
Battery Solutions
Large Battery Liquid Cooler for EV
Last update: 29 Aug. 2023
What is a large Liquid Battery Cooler?
High voltage batteries are expensive and very sensitive to temperature variations even when the vehicle is stopped and the battery is being charged. Valeo designs and manufactures compact and cost-competitive solutions (refrigerant, liquid and air cooling) to cater for all types of powertrains: hybrids in Japan and the U.S.; plug-in hybrids (PHEV) and full electric (EV) elsewhere. For PHEVs, Valeo full exchanger solution on refrigerant is serial since 2015. For EVs, Valeo offers ultra-performing liquid battery coolers for prismatic and cylindrical Li-ion battery packs (China, the U.S. and Europe).
Valeo's innovative battery liquid cooler
Battery energy density increase and fast charging also bring about cooling density increase.
Therefore battery coolers need a larger contact surface with the cells/modules and to be integrated inside the battery pack to mitigate leakage risks.
Valeo has developed a robust manufacturing process to ensure best-in-class battery cooler flatness to minimize thermal interface material amount. The plate is ready to be glued in the pack thanks to surface preparation.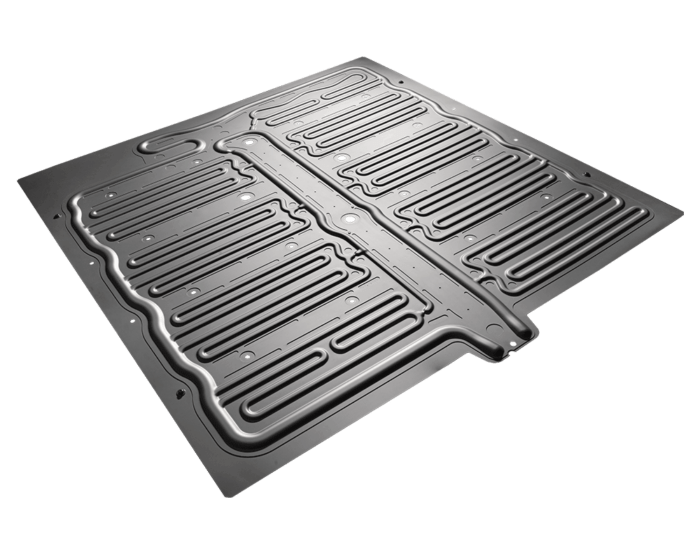 What are the benefits of our XL Battery Liquid Cooler?
Minimized risk of leakage (only one inlet/outlet that can be placed outside the packaging)
Cost optimization: integrated piping and brazing in one go
Optimization of cooling performance thanks to maximum contact surface with the cells/modules
Easy integration into the battery pack
Battery cold plate specifications
Average Thickness: <8 mm
T° homogeneity between cells < 2-5 K
Plates dimension:
2000 x 1500 mm
Flatness: <0.5 mm
Vehicle type
Passenger car
Bus
Robot taxi
Motorcycle
Droid
Off road
Battery thermal Management for every powertrain