Thermal Management
Battery Solutions
Refrigerant Battery Cooler
Last update: 28 Aug. 2023
What is a refrigerant battery Cooler?
High voltage batteries are expensive and very sensitive to temperature variations even when the vehicle is stopped and the battery is being charged. Valeo designs and manufactures compact and cost competitive battery cooling solutions (refrigerant, liquid and air cooling) to cater for all types of powertrains: hybrids in Japan and the U.S.; plug-in hybrids (PHEV) and full electric (EV) elsewhere. For PHEVs, Valeo full exchanger battery cooling solution on refrigerant is serial since 2015. For EVs, Valeo offers ultra-performing liquid battery coolers for prismatic and cylindrical Li-ion battery packs (China, the U.S. and Europe).
Direct battery cooling with A/C refrigerant has always been the best solution for safety and costs. Direct connection on A/C loop offers low refrigerant temperature.
Valeo has developed a wide range of battery cooler size, working in horizontal or vertical position. Valeo has patented the spring bar technology to ensure a dry contact without any thermal interface material.
Valeo is world leader for refrigerant battery coolers and provides full system including SW control.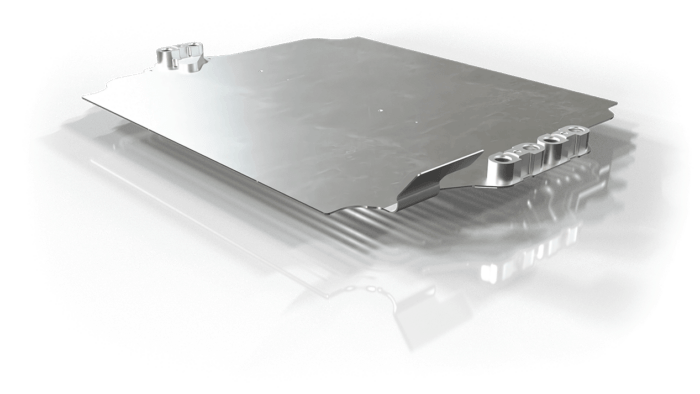 What are our refrigerant battery cooler benefits?
No thermal interface material needed (dry contact)
Servicing flexibility
Easy integration and assembly
Battery safety in case of leakage
Time to temperature
System Cost (no chiller / no water pump)
Battery cooling plate specifications
Suitable for medium size battery pack (up to 50 kWh)
Cooling power above liquid cooled solutions: + 30%
Average T° unbalance between cells: 5 K
Vehicle type
Passenger car
Bus
Robot taxi
Motorcycle
Droid
Off road