Thermal Management
Electric Heaters
Surface Electrical Flexible Heater (Valeo FlexHeater)
Last update: 28 Aug. 2023
What are Surface Electrical Flexible Heaters (Valeo FlexHeaters)?
In winter, cabin heating is energy-intensive, especially for EVs, for which range is a critical element. Valeo FlexHeater system is a powerful, invisible, quiet, radiative and conductive heating elements to be integrated into all trim surfaces of the cabin, including plastic surfaces. Combined and smartly controlled with the HVAC, it provides significant energy savings and up to twice as fast time-to-comfort compared to standard solutions.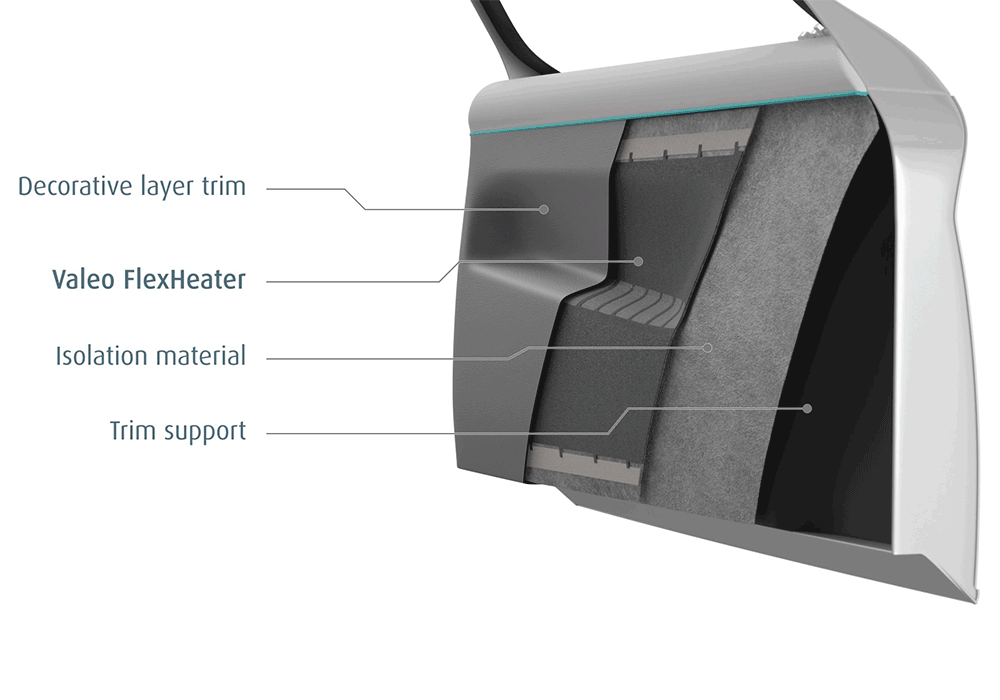 What are our Electrical Flexible Heaters benefits?
Heating efficiency and smart energy distribution between air and surfaces
Individualized heating zone
Fast winter cocoon effect
Efficient cabin pre heating
Silent system
Compatible with all trim surfaces and processes, including plastic surfaces (plastic overmolding process)
Electrical Flexible Heaters specifications
Quicker time to comfort:
-40% in comfort mode
Perceived cocoon feeling with homogeneous heating
Vehicle Energy savings up to 48% for 1 passenger @-7°C, coupled with the HVAC
Acoustic comfort: -15dBA
Available in 12V, 48V under development
Vehicle type
Passenger car
Bus
Robot taxi
Motorcycle
Droid
Off road
Surface Electrical Flexible Heaters