E/E architecture & Connectivity
Processing Electronics
ADAS Domain Control Units
Last update: 28 Sep. 2023
What is an ADAS Domain Control Unit?
Valeo is proud to introduce our advanced ADAS Domain Control Unit, a high-performing and flexible solution for centralized computing architecture. This scalable portfolio has been meticulously designed to cater to a wide array of applications, including Surround Viewing, Automated Parking, and Automated Driving. Our flexible architectural design is specifically aimed at meeting the needs of the next generation of Advanced Driver-Assistance Systems (ADAS).
Our ADAS Domain Control Unit significantly reduces vehicle complexity, weight, and CO2 emissions. This streamlined approach aligns with our commitment to sustainable development without compromising on system performance or functionality. With scalable computational power, our ADAS Domain Control Unit can be adapted to accommodate various levels of functional deployment, offering tailored solutions to our customers.
Our ADAS Domain Control Unit is designed with a broad range of sensor suite capabilities and processing power, ensuring compatibility with a variety of ADAS applications. It also incorporates advanced thermal management solutions, capable of passive, active air, and liquid cooling for up to 250W, thereby safeguarding system performance under diverse operating conditions.
Multiple Compute SoC options are available with the unit, offering scalability in compute performance from 100 to 250 to 500 TOPS, thereby ensuring adaptability to the computing demands of different applications. This system complies with high safety standards, meeting up to ASIL D requirements, and adheres to stringent automotive product standards.
Our robust patented designs, aligned with Valeo's manufacturing expertise, guarantee a durable and reliable product. As a market leader in deploying new technologies in ADAS and with extensive experience in ADAS ECU development, we continuously strive to deliver innovative and effective solutions.
Valeo's ADAS Domain Controller Unit for automotive represents our dedication to pioneering advanced, sustainable, and adaptable technologies in the rapidly evolving domain of ADAS. This unit showcases our commitment to delivering cutting-edge solutions while prioritizing safety, reliability, and environmental responsibility.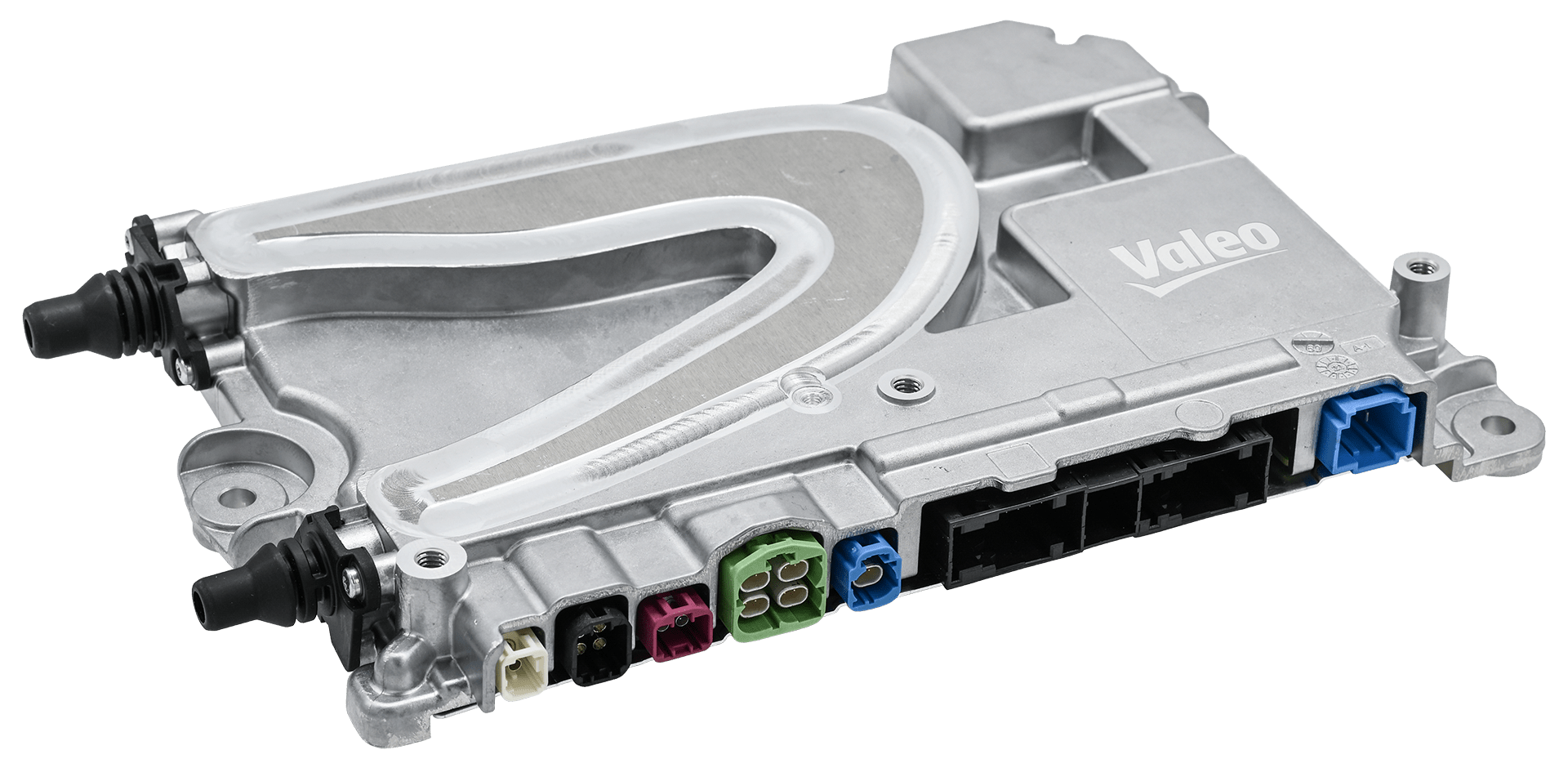 What are our Domain Control Unit benefits?
Flexible architecture designed to precisely fit the needs of next-generation advanced driver assistance systems (ADAS)
Reduction of vehicle complexity, weight and CO2 emissions
Scalable computational power for various levels of functional deployment
Wide range of advanced driver assistance systems (ADAS) sensor suite capability and processing
Domain Control Unit specifications
Thermal Management for passive, active air and liquid cooling up to 250W
Multiple Compute System on chip (SoC) options possible
Scalable Compute performance
100/250/500 TOPS
Meets high safety (up to ASIL D) and security requirements
Compliance with Automotive product standards
Unique selling points
Robust Patented designs aligned with Valeo Manufacturing Expertise
Valeo market leader in deploying new technologies in ADAS
Long Valeo experience in advanced driver assistance systems (ADAS) electronic control unit (ECU) development
Vehicle type
Passenger car
Bus
Robot taxi
Motorcycle
Droid
Off road