Thermal Management
Air conditioning
R-1234yf / R-744 Heat Pump Heat Exchangers
Last update: 27 Aug. 2023
What are heat pump exchangers?
A water-cooled condenser is part of a specific hot loop/cold loop thermal management architecture. It connects the cooling loop to the air conditioning system. This innovative condensers use coolant rather than air to liquefy air conditioning refrigerant vapour.
Battery cooling needs are increasing and require higher condensation performance. But a condenser needs also to work as an evaporator to recover heat from air at cold temperatures to avoid too much impact on the vehicle range.
It is a key exchanger in a heat pump loop to heat up the cabin. However, when the heat pump cannot provide enough heat, a High Voltage Coolant Heater is required.
An Internal Heat Exchanger (IHX) is sometimes added in the system to enhance its overall performance, supporting battery charging time reduction and vehicle's range optimization, the latest IHX generation enhances the cooling power and efficiency to optimize energy consumption.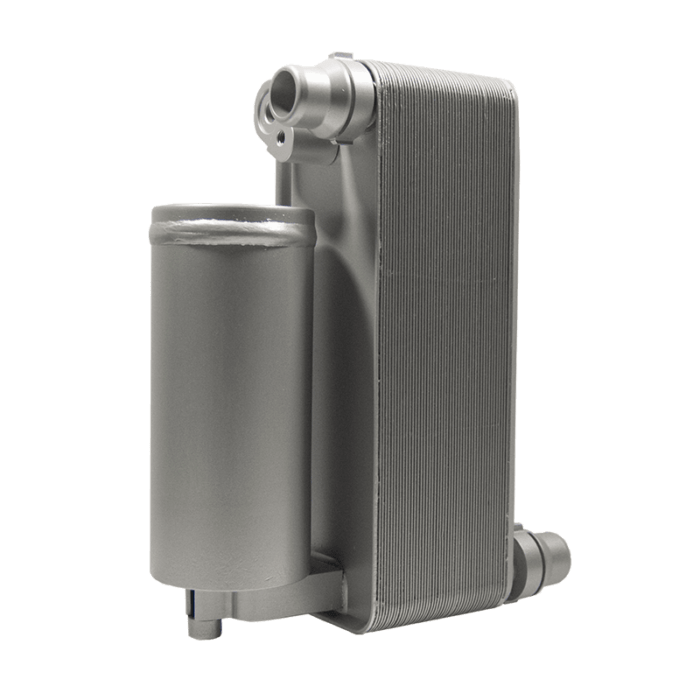 What are heat pump exchangers benefits?
Energy consumption reduction and CO2 emissions compared to conventional condensers
Pressure fluctuations reduction in the air conditioning system
More space for additional components in hybrid models (no condenser required in front of the radiator)
Reduction of the fan power consumption by optimizing the airflow
IHX specifications
From 12 up to 21 mm width available
Vehicle type
Passenger car
Bus
Robot taxi
Motorcycle
Droid
Off road
Water Cooled AC Loop Animation