Thermal Management
Air conditioning
R-744 Smart Heat Pump Dual
Last update: 28 Aug. 2023
What is a R-744 Smart Heat Pump Dual?
A Heat Pump is an evolution of the Air Conditioning (A/C) to cool the cabin but also to warm it, using the thermodynamic cycle of a refrigerant gas.
Over time, EV heat pump systems have increased in complexity, taking more and more space while their cost has become quite substantial. Designing compact modules has become the main trend while focusing on sustainability.
Valeo is strongly committed to sustainable development and environmental protection: it was the first equipment supplier to promote a natural refrigerant (R-744) A/C system, winning a PACE Award in 2017 for this innovative technology. (PACE: Premier Automotive Suppliers' Contribution to Excellence).
R-744 (CO2) Refrigerant has a significantly lower climate impact than fluorinated refrigerants (R-134a or R-1234yf). It also offers more power and efficiency at extreme cold temperatures (-18°C) thanks to its thermodynamic properties. It is the most efficient way of heating an electric vehicle in cold conditions.
Anticipating P-FAS refrigerant BAN, Valeo has launched the next generation of green Heat Pump systems. The R-744 smart Heat Pump DUAL integrates in a single module both the coolant loop (Manifold with only 2 water pumps) and the refrigerant loop (one High Pressure Manifold including all refrigerant valves and exchangers) for less pressure drop and even more efficiency.
This R-744 Air-to-Air Architecture will be ready for SOP in 2027 and will offer optimum performance compared to any other A/C system on chemical refrigerant in mild and cold weather conditions.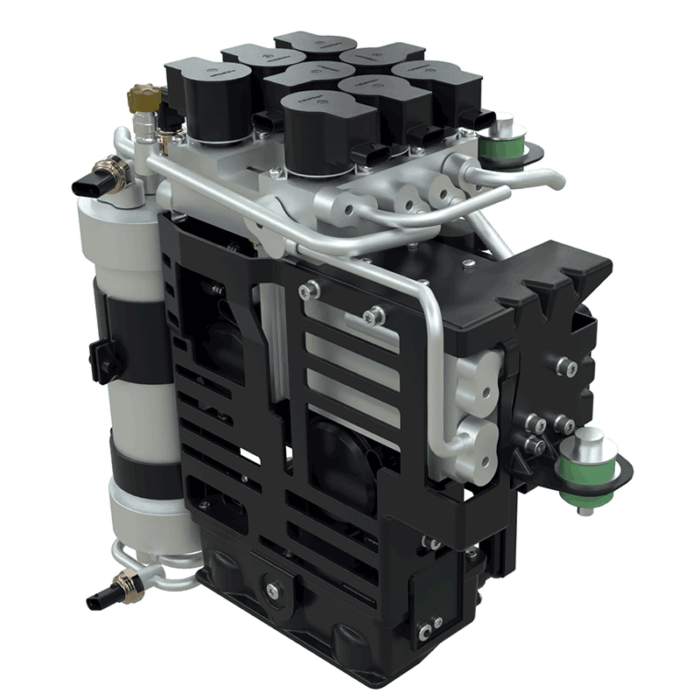 What are our R-744 Smart Heat Pump Dual benefits?
Improved Energy Recovery: Gain 70km (+30%) at -7°C for 70kWh battery (WLTP)
Fast energy recovering enabler below 5°C
Efficient Heating: COP 3.6 at -7°C for 6kW
Packaging and weight savings: 30% less volume
Easy integration
Best rating on Green NCAP
Adapted to Immersive Cooling
R-744 Smart Heat Pump Dual specifications
up to 7.8 kW heating capacity at -20°C
Same cooling capacity as
R-1234yf at+ 35°C (Valeo technology)
Possibility to cool up to 11.5 kW at+35°C for Ultra Fast Charge (Valeo Patent)
R-744 EDC: 6cc to 8cc
R-744 Heat Exchangers: Evaporator, Inner-GasCooler, Outer-GasCooler, Water-GasCooler, IHX, Chiller
R-744 Electronic Expansion Valves (CEO: Close Expansion Open)
Natural Refrigerant
SOP 2016

First R-744 A/C System for a premium German OEM

2017

PACE Award for our R-744 Standard Heat Pump

SOP 2019

R-744 Heat Pump components for the largest global electric platform on the market
Vehicle type
Passenger car
Bus
Robot taxi
Motorcycle
Droid
Off road