Thermal Management
Air conditioning
Smart Heat Pump Dual
Last update: 28 Aug. 2023
What is a Smart Heat Pump Dual?
A Heat Pump is the evolution of the Air Conditioning (A/C) system: it is now able to cool the cabin but also to warm it, using the thermodynamic cycle of a refrigerant gas.
Over time, EV Heat Pump systems have increased in complexity, taking more and more space while their cost has become quite substantial. Designing compact modules is becoming the main trend.
That is why Valeo proposes a new design of heat pumps, compact and centralized, integrating the refrigerant loop and the coolant loop in a single module. Easy to plug to HVAC, electrical Compressor, battery thermal system and front cooling module, while reducing the volume of refrigerant and piping.
Valeo will be the first Tier-1 supplier introducing such an All-in-One solution, called "Smart Heat Pump DUAL", on the market by the end of 2023.
The R-1234yf Smart Heat Pump DUAL exists in different architectures to serve as a "Smart Thermal Network" and optimize overall energy and cabin comfort while maintaining driving range.
When the system is fully optimized, the range of electric vehicles can be extend by up to 30% in winter.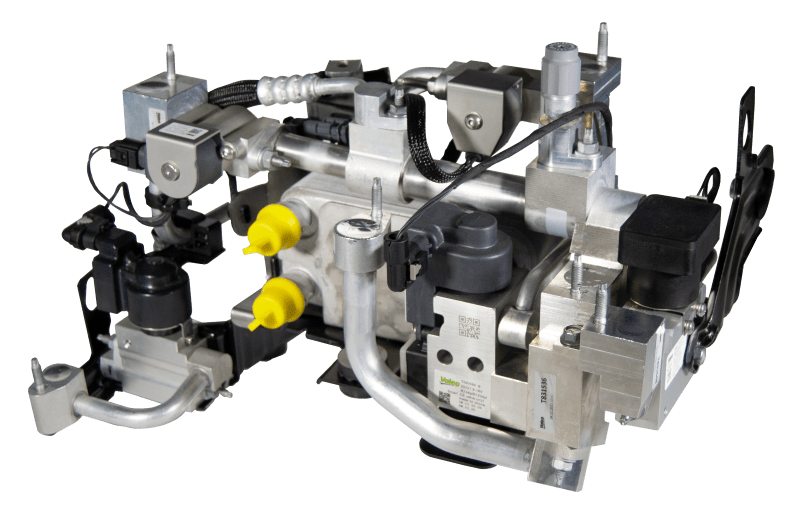 What are our Smart Heat Pump Dual benefits?
All-in-One architecture (Coolant & Refrigerant)
Heat Recovery from Battery & Powertrain
Efficiency (better COP): +5% COP (less pressure Drop)
High Cooling Power
Packaging and weight savings:
30% less volume
Easy integration
Smart Heat Pump Dual specifications
Cooling capacity: 5.1 kW at 35°C
Max Cooling (BTM): 8.6 kW at 25°C
Heating capacity (Heat Pump): 4 kW at -7°C
Electric Compressor: 34cc or 45cc
Weight: 12.5 kg
Packaging: 28 L
Vehicle type
Passenger car
Bus
Robot taxi
Motorcycle
Droid
Off road