Specific Products Beyond Automotive
Electric Axles
Cyclee Electric Bike 48V System
Last update: 05 Sep. 2023
What is a Cyclee Electric Bike 48V System?
The Cyclee eBike system proposes a 48V battery, a display for the rider and a complete 48V Mid-Drive Unit eMotor for electric bike, with an integrated 7-speed automatic gearbox. Valeo's solution is the highest performance electric assistance system and the first in the world to integrate both an electric motor and an adaptive automatic transmission in the pedal assembly that instantly adapts to each individual's riding style.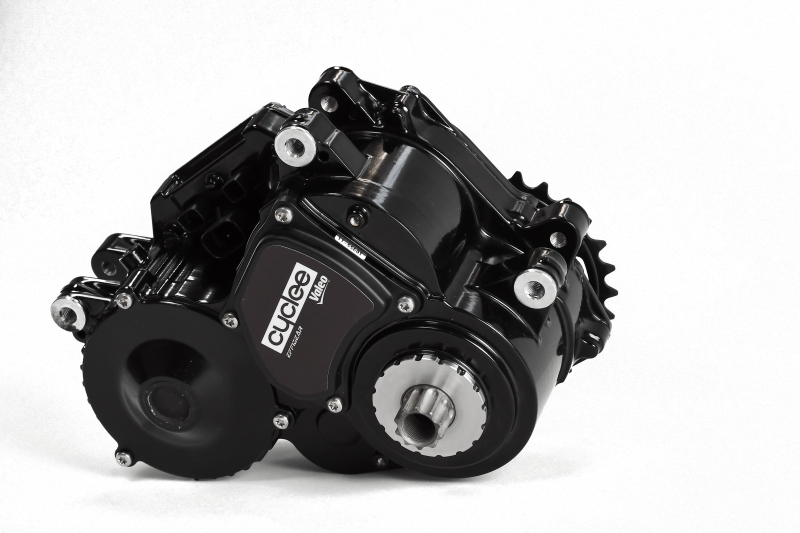 What are Cyclee Electric Bike 48V system benefits?
Level of assistance automatically adjust and can multiply the cyclist's effort by 8
Anti-theft system: gearbox automatically switches to neutral position without any possibility to crank
Smooth, smart and adaptive automatic shifting (Gear Shifting under load and at stop) thanks to a whole connected environement
System suitable for all applications: cargo, urban, mountain
Efficient aftermarket service
Cyclee Electric Bike 48V system specifications
First Mid-Drive Unit with an integrated gearbox on the market
48V system providing up to 750 W continuous power
High output torque up to 130 Nm to support important slope capability
Intelligent energy management
Full electric pack with battery & MMI (Man Machine Interface)
Complete aftermarket ecosystem (Valeo Service)
Adaptive solution for bikes and cargo bikes
Companion app available soon
Vehicle type
Passenger car
Bus
Robot taxi
Motorcycle
Droid
Off road