Thermal Systems
Valeo Thermal Systems designs and manufactures smart systems, modules and components to optimize thermal energy management of vehicles and passenger comfort in the cabin.
The Thermal Systems Business Group pursues two strategic objectives for automotive advanced thermal systems supporting our ambition in greener and safer mobility solutions to:
Provide best energy efficient systems for electrified mobility
Support Carbon neutrality with low emissions solutions
Secure Health and well-being of passengers with new services and best experience
Our mission at Valeo Thermal Systems is to optimize thermal energy management, heating and cooling systems, for cleaner, safer and more reliable mobility, while redefining passenger well-being inside the cabin.
Our innovations help sustain the future of transportation by reducing emissions, extending the driving range of electric vehicles, cleaning cabin air and creating a new interior experience.
Valeo Thermal Systems Business Group Key Figures
(at end December 2022)
0

million euros in sales / 23% Group's sales

0

employees

0

production units

0

development centers

0

research centers
Automative Thermal Systems Product Overview
Energy efficient systems for electrified mobility
Electric mobility demands new solutions and innovative systems in thermal management to provide passenger comfort without impacting vehicle range and protect battery lifetime and performance by securing ideal operating conditions even during fast charging operation. The Thermal Systems Business Group offers a complete portfolio of solutions optimized for all types of electric propulsion (rechargeable hybrids and all-electric vehicles), supporting:
Battery Health, safety and lifetime
Best autonomy in all climates
Fun-to-drive
Optimum acoustics
Charging time reduction for electric vehicles
Shorter charging time is a growing demand from both OEMs and end-users and is a key criterion for EV adoption over ICE vehicles. However, injecting 150 to 250 kW in the battery in a very short time provokes batteries' overheating above its maximum operating limit of 45°C, jeopardizing their safety and lifetime. Therefore, increased cooling systems are required; the Thermal Systems Business Group develops advanced solutions offering the most efficient EV cooling performance on the market and able to dissipate up to 20 kW heat.
XL Plate Liquid Coolers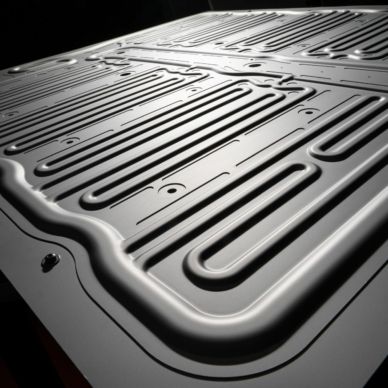 High Performance Chillers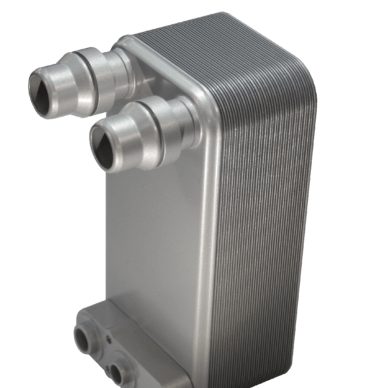 Electrically Driven Compressors (400 V & 800 V)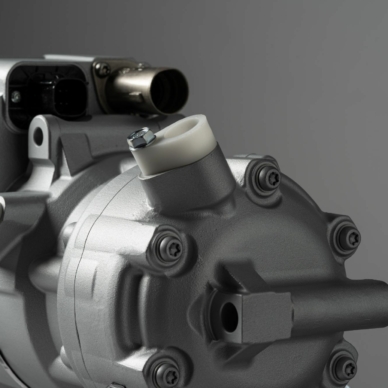 Front End Cooling Modules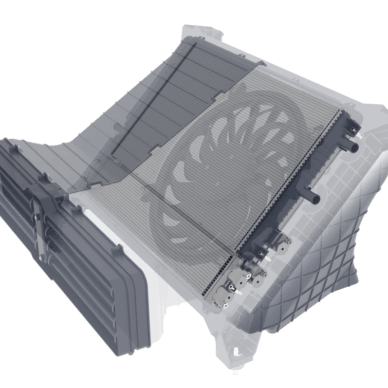 Electric vehicles range Extension
The second challenge in thermal management for EVs is to provide the right balance between driving range and passenger comfort, particularly under extreme weather conditions (hot or cold). EVs are usually equipped with electrical heaters and compressors that may puncture up to 40% driving range in winter (-7°C) and up to 20% in summer (< 35°C).
To mitigate those effects, the Thermal Systems Business Group offers smart, green and energy efficient comfort solutions that can extend EV driving range up to 40% at -15°C with optimal thermal comfort for passengers.
The range of electric vehicles is also a question of aerodynamics and weight. To support this objective, the Thermal Systems Business Group uses composite materials for all structural parts, which can offer up to 30% weight reduction compared to aluminum solutions.
Heat Pump Systems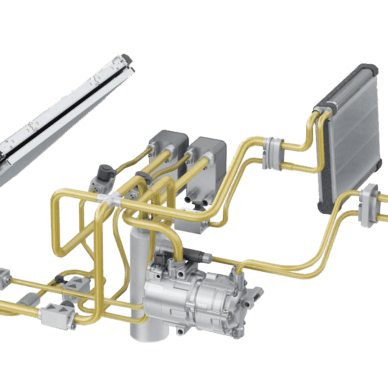 FlexHeaters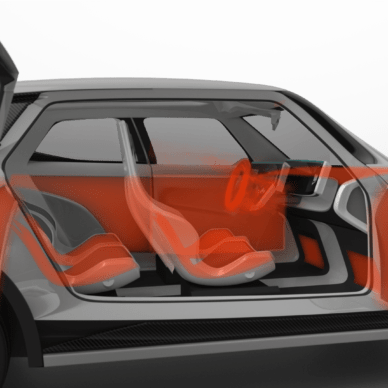 Ultra Thin HVAC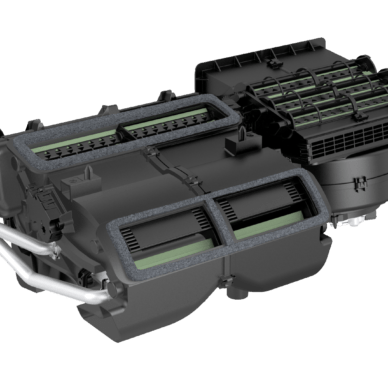 Thermal management of EV battery systems : battery pack protection
Lithium-ion batteries used in electrified vehicles must operate between 25°C and 45°C to achieve the best performance as well as the longest range. In addition, the temperature homogeneity between the cells must be maintained below a difference of 5°C to ensure the longevity of the battery. The Thermal Systems Business Group developed a complete range of highly efficient battery cooling or heating solutions for electrical vehicles that help preserve the battery health.
Lastly, the Business Group is working on protecting the car battery pack in the event of an impact, in order to prevent fires or harmful gas emissions.
Battery Coolers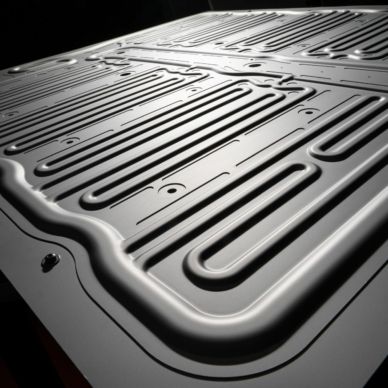 Composite Battery Casing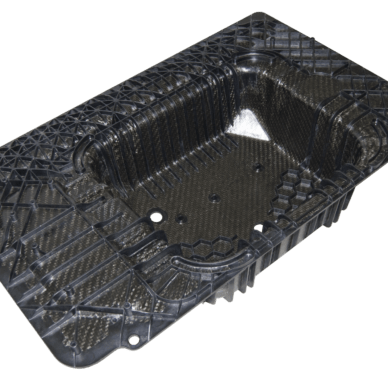 Valeo Automotive Thermal Systems take care of passenger health & well-being for all types of commutes
The rapid convergence of digitization and automation is opening up new possibilities to bring health & well-being inside the car. With the advent of new technologies, combined with new forms of mobility, in-vehicle comfort takes on a whole new dimension for end-users beyond mere temperature mitigation and improved posture. As today's commutes become longer and more congested, passengers aspire more than ever to have a relaxing and healthy journey in a space preserved from external stress.
The Thermal Systems Business Group's ambition is that passengers feel safe in a clean and comfortable environment, thanks to scientifically validated efficient solutions for thermal management.
Personalized Thermal Comfort in electrical vehicle
The Thermal Systems Business Group develops intelligent, totally personalized and localized comfort solutions in cars , as close as possible to the real needs and feelings of each individual. Thanks to a set of car sensors (cameras and vital signs measurements), and algorithms analyzing the metabolism, age, gender, level of clothing and thermal environment of the passenger, the Smart Cocoon solution is a unique low-consumption cabin heating solution based on the smart distribution of energy between the air and the interior surfaces. That adaptive and personalized comfort solution provides up to 50% energy savings at -7°C outside temperature with a single driver and up to 25% at maximum occupancy.
Air Quality in vehicles and Passenger Protection
Ecological awareness is a major event in recent years. A large majority of the population of industrialized countries believe that air pollution is the most alarming environmental problem. More than ever, Journeys must be safe and healthy, and the coronavirus pandemic has put the automobile back at the top of consumers' preferred means of mobility. The health issue inside vehicles is fundamental, and even more so when they are shared.
Valeo Thermal Systems Business Group features technology range with a full air quality system that is not only healthier and cleaner, but also actively informs and protects passengers from both outside pollutants.
Local public transport is the backbone of mobility in the world's metropolises and is therefore also the focus of attention when it comes to the transport transition. Public transport itself stands for more sustainability in urban mobility today and in the future.
However, the passenger and revenue figures in public transport in particular have declined sharply since the beginning of the Corona pandemic. There is great uncertainty among the population and an urgent need for solutions to effectively combat the virus. The issue of air quality in public transport is not only a priority now, solutions are needed that will effectively protect us from the next wave of flu and other viruses in the long term and make public transport a safe means of transport.